Keno City Music and Art Workshop 2016
The Keno City Music and Art Workshop will take place from August 1 - 7, 2016 in Keno City, Yukon.
This creative opportunity is open to all genders. 
Out Of A Paperbag Productions, in partnership with Yukon Women in Music, and thanks to On Yukon Time and Culture Quest, are pleased to announce the Keno City Music and Art Workshop for adults this August 1 - 7, 2016. Spend the week painting and writing alongside the Artists In Residence! Artists of all levels are welcome to join in! Or come listen and watch because each evening there will be presentations. You can camp or stay in accommodations, as you choose. Deals will be available for participants on a first registered basis. 
For one week participants can participate in workshops about music and art while camping in the outdoors or staying indoors at lodging in Keno City, Yukon from August 1 - 7, 2016. This creative week experience will culminate in a batch of new original songs and paintings by artists in residence and participants and who are inspired by their beautiful and historic surroundings. 
Participants will benefit from being immersed in a creative atmosphere for a whole week. They will have access to the artists in residence during the week informally and formally. They will be able to focus for their writing and/or painting with gentle deadlines, which can be very good for being creatively productive. 
They will also have opportunity to collaborate in song and/or performance and visual art with other participants if they choose. They will have time away from the world and their responsibilities in order to focus on their passion. 
Participants will be mature adults with occasional exceptions being made for mature young artists who are attending with their guardian and caregiver. Registered participants pay only $100 for 20 workshops that include art supplies. Added supplies may be available to purchase if you need some for your personal creation time. 
1 scholarship is available based in need and passion. Please email kimbeggsbookings@gmail.com to submit. 
Travellers driving to Keno City during that week can enjoy evening performances and art displays at various venues in Keno City, with some singing, art and stories on a nightly basis. They decide to share something themselves! Stay an extra night or two or the whole week because of it. Travellers will have the opportunity to buy CDs, paintings and other merchandise from the artists in residence or participants in the workshop. Drop ins can register in Keno City for $200 for the week or $50/day. or $15 per workshop. 
Welcome the Keno City Artists In Residence 2016 
Kim Beggs - Musical Artist 
www.kimbeggs.com 
www.facebook.com/kimbeggsmusic 
Kim Beggs writes and sings sweet, dark tales of northern life. With the momentum gathered from six Western Canadian Music Award nominations and three Canadian Folk Music Award nominations she is set to release her fifth solo album this fall 2016. While spending the week creating her own new songs and exploring new kinds of yodels, Kim is pleased to be able to share her creative process through short daily music workshops in a place of great inspiration. Because of her love of creativity and mentorship Kim has produced several musical community projects including the 2012 & 2013 Grand Ole Northern Opry Music Camp and Concert; The 2015 Fort Selkirk Song crafting Workshop; and this 2016 Keno City Music and Art Workshop. 
Workshops ideas include: Words First; Then the Melody; Recording a Song Demo, Harmony Singing; Singing the Song. 
Meshell Melvin - Visual Artist 
www.meshellmelvin.com 
Meshell has been a practicing visual artist for 26 years. She has exhibited widely in solo and group exhibitions within the Territory and in Public Galleries across Canada. Her work has been featured in newspapers, magazines, on CBC Radio and Television and has been the subject of a short documentary film that has toured internationally at film festivals. Versatile in a number of mediums, her dedication and passion make her a lively and stimulating instructor. To the process Meshell brings her trained eye, her love of narrative and story telling, her technical knowledge, and her open and creative mind. 
Workshop ideas include: Contour Drawing; Drawing in Preparation for Painting; Acrylic Paint and a Trip Around the Colour Wheel; Acrylic Paint and Transparent Glaze; Opposites on Top. 
BJ MacLean - Musical Artist 
www.facebook.com/bj.maclean.7 
"Northern with a twist" is how BJ describes her music - a combination of folk, bluegrass, country and even a little classical. She writes from the heart and has consequently won the hearts of listeners and artists of all ages and genres. If you like sitting around a bonfire while the northern lights dance, closing your eyes and being transported, through music, to a place that touches the soul, you will appreciate BJ MacLean's writing and performing style. 
She performed concerts for CBC Radio One including, Lorne Elliot's "Madly Off In All Directions" and Shelagh Rogers' "Sounds like Canada". She has recorded and released one solo album, and two band albums with "Outlaw Women" and "Fireweed and Flannel". She was selected by national jury for 3 compilation CD's with Yukon Women in Music. She has done harmony vocal session work for artists like Kate Weekes, Steve Slade, Brenda Berezan, and Susan Grace Stoltz. BJ currently performs with the band "Sisters of Evolution" and as the duo "Fireweed and Flannel" with Keitha Clark. 
Workshops ideas include: Songwriting, Beginner Clawhammer Banjo, Beginner Guitar, Beginner Finger picking guitar, Harmony singing 
Cathy Routledge - Visual Artist 
www.facebook.com/Cathy-Routledge-Watercolor-Art-1797456217142921 
Cathy is a Yukon/California based artist with a passion for watercolor; teaching classes, exhibiting her work and mentoring new painters south of the border. Working extensively with a group of California artists has given her exposure to a marvelous range of styles and a deep appreciation for the value of mentorship. The time is right for her to connect into the vibrant Yukon arts community where her collaborative style is an easy fit. She is an engaging and supportive instructor, believing art needs to be accessible and fun. Depending on the needs of the participants, Cathy's Keno workshops will offer guidance and technical teaching, while leaving lots of room for exploration and experimentation. 
Workshop ideas include: Watercolor Basics, Tonal Values, Exploring Color Theory, Using Negative Space, Painting Loose: The Wild Child of Watercolor 
Keno City Tentative Schedule June 21 (jpg) 
Keno City Tentative Schedule June 21 (pdf) 
Registration form in word 
Registration form in pdf 
Equipment list for creating and camping (if you are camping)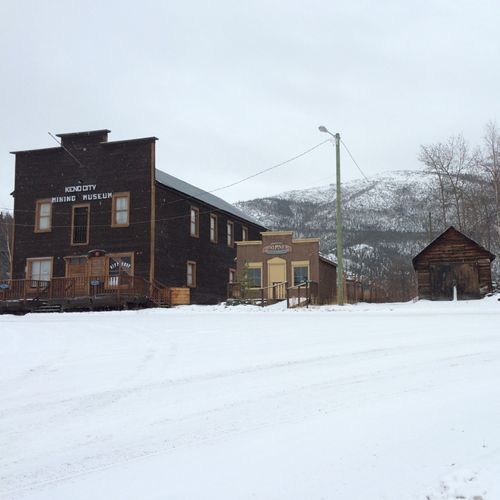 Downtown Keno City in the fall 2015